A dream has finally come true!
A big thanks to all of you who have contributed with donations and help, both large and small. Without you, the big dream would not have been possible to fulfill.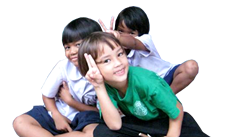 The birthday of Khun Took Jiraporn Khunphume
The beautiful evening at Baan Jing Jai Foundation. Happy Birthday to Khun Took Khunphume, celebrated her birthday with the family and friends with the children. We appreciated the goodness and the kindness of her family that always sharing the love to the children more than ten years. Every year we enjoy her birthday and also this evening.