ABOUT US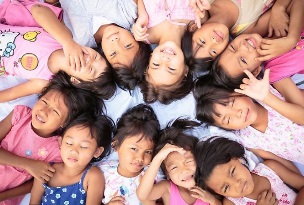 It all began in 1992, when Khun Piangta came to Pattaya with a priest from CCT (Church of Christ, Thailand), Bangkok. They rented a small house that they lived in and used it as a "drop-in" for street children. They sought out the many street children who hung around in Pattaya, those who tried to beg and / or sell themselves tourists who had come to Pattaya to exploit these poor unfortunate children and those who had no parents or had escaped from violent homes. Khun Piangta took it upon herself to motivate these children for school and get away from the terrible environment they knew.

And after two years out on the streets, they moved into a larger house in Jomtien, where they began to host a few of these street children and where they also got them into the schools. And in 1999 it had grown to 15 children and they had to look for a new and larger location. Also at this time was that Khun Piangta took over as general manager and had two assistants with her at the new location, where they have been ever since. As at September 2009 is home to 66 children. Now the staff consist of 4 permanent employees, and 4-6 volunteers who work almost around the clock.
What it costs to run the orphanage and further work
As of January 2009, the monthly running cost was well over 40,000Baht - Enough to cover the rental costs and power / water, schools + school uniforms and books, medicines and doctor visits, food and clothing and many other things needed for daily work. When there are constantly more children, it also increases the monthly spending. So there are big challenges to keep your monthly expenses down, when one is 100% dependent on voluntary donors / sponsors. And there are currently several Norwegians who work actively with Norwegian donors / sponsors on various projects, which we hope will be of great help in coming years.

And with this active support from Norway, it has been among other demands from Norwegian donors / sponsors to ensure that the collected money will come in the right hands. The Baan Jing Jai has been registered as a foundation, simply known as the "Baan Jing Jai Foundation. The Baan Jing Jai Foundation is currently registered with a board of six members, including a Norwegian representative, who work for the Seaman's Church in Pattaya.

The foundation's immediate goal, along with the constantly working to raise money for daily operations, is to gather enough support to buy the land so that the long term they can move into its own building with room for more children.

Now it also helps to support some children who have completed the regular school and are about to become adults, and require further education, which costs more than regular school. Eventually the home be focused on creating projects for these children, helping them to choose the right way forward, so they do not fall into the wrong "professions" here in Pattaya and Thailand. So this is also a new and important role to ensure that these young adults follow up on with their choices and do not end in the many pitfalls that exist in Pattaya.