A dream has finally come true!
A big thanks to all of you who have contributed with donations and help, both large and small. Without you, the big dream would not have been possible to fulfill.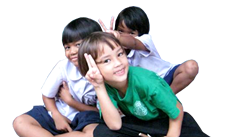 Grand Opening Day
The beautiful day of Baan Jing Jai. It was a big day of Grand Opening on Sat. 9. January. It was the great honor of the foundation because there were many VIP guests participated in this event, His Excellency the Norwegian Ambassador, Mr. Kjetil Paulsen, Royal Norwegian Embassy Bangkok, the Bang Lamoung Shariff , the CEO of WWL Logistic in Southeast Asia. Thanks our sponsors and the guests who always take care of Baan Jing Jai.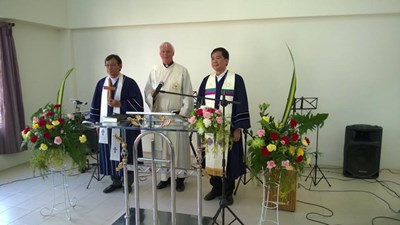 THE NEW PROJECT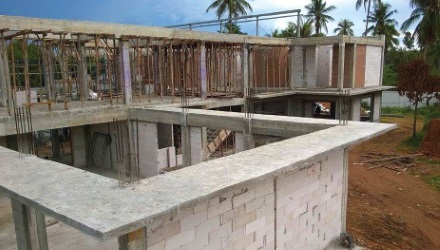 Since its inception in 1997 the Baan Jing Jai Children's Home has grown in size and now occupies three old buildings that house over 80 orphaned and abandoned children ranging from 1 to 19 years of age. Late 2010 saw the beginnings of a project to construct a purpose designed facility to accommodate some 100 plus children of similar age ranges.

The first step was to turn what started as a well meant effort to look after a few helpless children into a fully fledged Charitable Foundation, which was finalised in February 2011 as the Baan Jing Jai Children's Home Charitable Foundation, with a management of six to oversee the day to day management of the home.

A suitable site for the home, comprising approximately 4.2 rai (6,750 sq. m.) was identified and the purchase completed in March 2011 with monies previously collected for that purpose together with a bridging loan. The site is situated approximately 1 km from the junction at the School of the Regents just off Highway 7.

Plans have been prepared by experienced locally based overseas architects, free of charge, to provide an initial building containing bedrooms for 40 boys and 40 girls, a 20 cot nursery, First Aid Room, Library, Art Room, Music Room, Leisure Room together with offices, kitchen and maintenance areas and ancillary rooms, covering an area of some 1350 sq. m. In addition there is space for a large playground area and gardens.

A committee has been established to organise and raise the funds required to build the new home and oversee the construction process and is completely independent from the day to day fund-raising operation of the home which continues as usual.

The initial fund-raising for the project, which it is hoped will commence before the end of 2012 subject to the collection rate of the donations, has already started.

It is envisaged that companies and individuals will donate according to their means either into the general building fund or by selecting a particular part of the project. If a donor wishes, the part of the project funded by them can be designated with a name board as requested. All major contributors will be recognized in a central location at the home. For ease of calculation there is a schedule of items, together with their estimated costs, as follows:-

Cost
(THB)

Sponsored Amount
(THB)

1

Children Rooms

5,500,000

1.1

Girl's Rooms Wing (10 x 250,000)

2,500,000

2,498,500

Wallenius Wlihelmsen Logistic

1.2

Boy's Rooms Wing (10 x 250,000)

2,500,000

1,039,088

"Tananger Group" Norway
Randaberg, Norway
VisteSørVest, Norway
Thai Your Shoes Foundaton

1.3

Mentor's Room

500,000

500,000

Benny O'Connor

2

Nursery Room

600,000

3

Visitor Room (2 beds)

540,000

4

Common Facilities

6,260,000

4.1

TV Room

450,000

641,180

Friends of Sputnik

4.2

Laundry (Boys, Girls, Nursery)

210,000

4.3

Administrative Quarters

960,000

4.4

Music Room

500,000

500,000

Friends of Sputnik

4.5

Art Room

260,000

261,988

Anne Eun Mee Torisen

4.6

Library

860,000

860,000

Liv Kirkby

4.7

Canteen

1,350,000

1,329,924.65

Mr.Coin Golf and Charity Dinner

4.8

Kitchen & Maintenance Rooms

400,000

4.9

First Aid

360,000

360,000

Golf Friends of The Haven

4.10

Multi-purpose Room

900,000

4.11

Courtyard

100,000

100,000

Kingfisher Guest House

4.12

Playground (open grass lawn)

150,000

150,000

Friends of Sputnik

5

Infrastructure & Landscape

5,600,000

5.1

Car Park

150,000

5.2

Perimeter Fence

600,000

5.3

Access Road

400,000

5.4

Water System

300,000

300,000

Hans Pederson

5.5

Drainage System

150,000

5.6

Power Supply System

500,000

6

Land

3,500,000

3,500,000

Sponsored

7

Additional costs related to inflation 2013/14 (Building cost. 20.131.124)

1,906,124

6,889,558

Other Donations, (Incl. Interest)

8

VAT 7%

1,409.178

Totals:

25,315,302

Last update 28.02.2015