A dream has finally come true!
A big thanks to all of you who have contributed with donations and help, both large and small. Without you, the big dream would not have been possible to fulfill.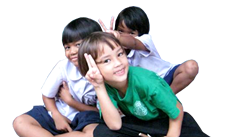 Objective
Since Baan Jing Jai grew up by the number of children increased, we or have established the foundation in 2011.
The Foundation 's objectives are as follow :
1. To prevent child victims of sexual services.
2 .To promote and encourage children to develop physical, mental, emotional and spiritual to have self confidence in their own values and ready to live happily in society
3. To promote and encourage children to have both formal education and non formal education in order to use their full potential.
4. To safeguard children's rights under the Children's Rights Convention.
5. To carry out or collaborate with other charitable organization for public benefit.
6. No political action.
7. Provide children care Foster children by providing housing, clothes and education.
8. Established as a children's shelter.